Can You Use Body Oils On A Spray Tan?
Originally published by Kelsi Zimmerman on July 15, 2023 on The Tan Bible at this link.
Are Body Oils Spray Tan-Safe?
There are a lot of misconceptions surrounding using body oils on top of a spray tan. While some professionals will say to forego using them altogether, others understand there are body oils that are spray tan-friendly and will only accentuate your glow. The key is to find a an oil that is nourishing, moisturizing, and free of mineral oils and fragrances.
Mineral oils are derived from petroleum which tend to sit on the skin (rather than absorb), so when combined with a spray tan, the molecules sit on top of a spray tan and can lead to patches or streakiness. While fragrances are derived from alcohols which will dry out a spray tan and cause it to fade fast.
Which Body Oils Are OK To Use With A Spray Tan?
So what type of oils are OK? Jojoba oil is a skin-loving, spray tan-safe oil that will hydrate, nourish, and protect your skin and tan. Bronze Palms Shimmer of the Sun Body Oil is the perfect jojoba oil-infused body oil to drench your skin in to accentuate your spray tan, hydrate the skin, and leave a gorgeous shimmery skin finish.
Bronze Palms (@bronzepalms) oil is also infused with vtamin E and aloe vera to replenish and soften the skin for a fabulous blurring effect. The oil is mineral oil-free, paraben-free, sulfate-free, fragrance-free, gluten-free, and vegan. What's more? It's infused with a shimmer that doesn't settle inside the bottle. Its elevated packaging allows a smooth, even, mess-free application.
Photo by thriving spray tan artist, American Honey Tans (@americanhoneytans), using Bronze Palms Shimmer of the Sun body oil!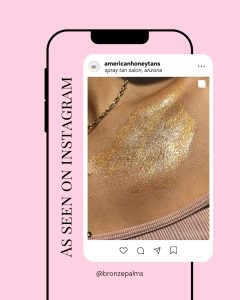 How Do You Apply A Body Oil?
Simply pump a pea-size amount on the desired body part. Rub in and apply more as desired. The oil is buildable and more is more! "Our favorite places to apply are the neck, collarbone, chest, and legs!" says Bronze Palms founder Emily Scott. It can be applied anywhere but the eyes. No spray tan? No problem, when used by itself the oil gives a gorgeous bronze glow.
Pro tip: Since oils soften the skin, you'll want to avoid any super tight clothing or harsh environmental stressors (think: sand) while wearing the body oil over a spray tan. This can have adverse effects and cause the tan to rub off.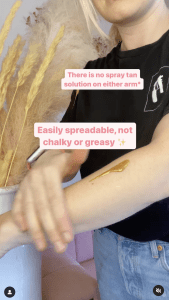 How to Apply Body Oil – as seen on Instagram!
The Pros Of Using A Body Oil:
The pros are endless but to start, Bronze Palms' oil moisturizes, hydrates, nourishes, and leaves a gorgeous skin finish. It's the perfect highlighter for the neck, chest, arms, and legs.
Professional spray tan artists can purchase the Shimmer of the Sun oils at wholesale for 4 bottles for $50 or at retail for $25 each. All bottles are 3.38 ounces and can be purchased here!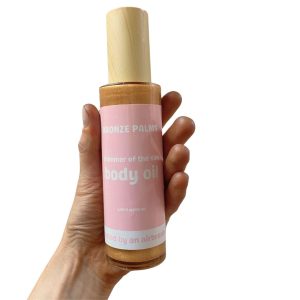 Why We Love Shimmer of the Sun:
If you're familiar with body oils, you know they can often feel (ironically) drying, stiff, and chalky on the skin. Instead, Bronze Palms' oil immediately absorbs into the skin without coating it and leaves a gorgeous long-lasting subtle sheen that doesn't transfer onto clothes, furniture, or others. The newly-relaunched formula has been a labor of love for the brand and the end result is one you and your clients will want in your beauty arsenal.
Like Bronze Palms' other products After Glow Powder and Like A Filter Tanning Drops, the oil is EWG-approved meaning it's clean, safe, and doesn't contain any harmful ingredients.
Take your tans to the next level! Click here to order. 
Ask us anything!
Email: [email protected]
Text/Call: 408 874 8865