Review: Bronze Palms Like A Filter Self Tanning Drops
Originally published by Kelsi Zimmerman on July 15, 2023 on The Tan Bible at this link.
price: retail: $12 each, wholesale: $60 for 10 units. (Each bottle is one ounce.)
type: Clear, customizable facial self tanning drops that begin developing in about two hours. The drops are designed to be used with a moisturizer. Use 1-2 drops for a light tan, 2-3 for a medium tan, and 4+ for a deep, dark tan.
product call-outs: 10% DHA.
key ingredients: hyaluronic acid, vitamin B3, vitamin C, aloe vera, and collagen! All ingredients are Environmental Working Group (EWG)-approved meaning they are by definition clean and safe for all!
texture: water-like drops.
dry time: almost instantly!
scent: unscented.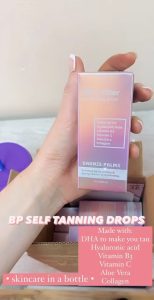 BP Self Tanning Drops headed to their next salon! This stuff is skincare in a bottle! Instagram saw it first!
(hot) take on the tan: Bronze Palms (@bronzepalms) new Like A Filter drops bring a stunning 10% DHA to the self tanning drop game—something that isn't very common. This means that those with deeper skin tones or who are looking to achieve a darker tan no longer need to use a lot of drops to achieve their desired look. Because why should you have to apply more if you have a darker skin tone?
They are designed to be mixed in with your favorite facial moisturizer and begin developing around two hours post-application and reach their darkest around the eight hour mark.
"I hated having to choose between a skin-perfecting tan and my skincare routine," says Bronze Palms' founder Emily Scott. That's why she chose to pack the drops with skin-loving ingredients like hyaluronic acid, vitamin B3, vitamin C, aloe vera, and collagen. "I use my peeling pads, guasha, serums, retinol, then moisturizers with a twist!" she says of her skincare-meets-sunless routine. "I add moisturizer to my palm, drop three drops of tanning serum, then apply to my face and wake up with a tan, skin-perfecting glow."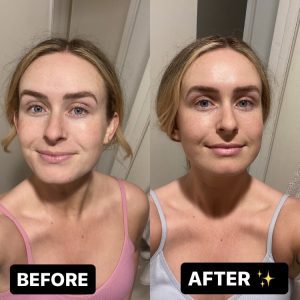 Owner, Emily Scott, displaying how the drops plump, hydrate, and TAN the skin overnight!
Want to get a tan under your makeup throughout the day? Emily suggests mixing the drops with a foundation so they can sink into the skin and you'll be left with a glowing complexion after just a few hours.
Inclusive of all skin tones, types, and good for your skin? Count us in. These drops have quickly become a staple in our skincare routine and we can confidently say you need them in your self tanning arsenal.
how we applied: Dropped four drops into my daily facial moisturizer, lathered on in the morning, washed hands, then let develop throughout the day. The drops don't need to be rinsed off and instead begin developing after two hours into a glow, three hours into a light tan, four into a medium tan, and after five+ hours into a deep, dark results. The longer you leave the drops on; the darker they'll be.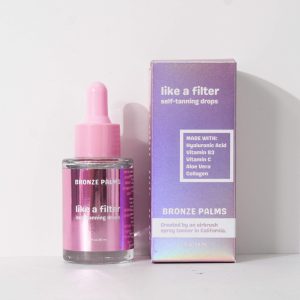 Touch up your tan! Click here to order. 
Ask us anything!
Email: [email protected]
Text/Call: 408 874 8865