Here's Why Your Spray Tan Lasts Longer Than Your Self Tanner
Originally published by Kelsi Zimmerman on July 15, 2023 on The Tan Bible at this link.
Why Does My Spray Tan Last Longer Than My Self Tan?
There's a few reasons why your spray tan lasts longer than your self tanner: Professional solutions are made with higher quality ingredients, they're applied at a distance so they don't over-penetrate (thus, dry out) the skin, and finally, your spray tan artist likely uses a drying powder that helps lock in your tan and prevents transfer while it's developing.
For the first two reasons, we recommend checking out our reviews of the best professional spray tan solutions, and for the third: you need to get your hands on Bronze Palms After Glow Drying Powder. The newly-launched drying powder is designed to leave the skin feeling dry and non-sticky immediately after a spray tan (or self tanner application!) It's formulated with ethically-sourced mica and without parabens, sulfates, talc, and other harsh chemicals so it can be safely applied to any skin type to leave a gorgeous, lightweight sheen that smells like a fresh, milky coconut.
The powder was created by Campbell, California-based sunless salon owner, expert, and owner of Bronze Palms (@bronzepalms), Emily Scott. Emily has done custom spray tans on thousands of bodies so not only does she know how to get a spray tan to last, but she also knows what the non-negotiables are when it comes to drying powders. For drying powders to be effective they must be lightweight, quickly sink into the skin, be gentle enough for all skin types, and be finely-milled but not too fine to where they create a mess for artists.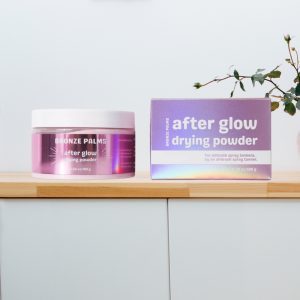 Speaking of mess, After Glow's travel-friendly jar makes it the perfect powder for mobile artists. Gone are the days of flimsy bags of powders making a mess in your mobile kit—and worse, wasting product. The professional-grade powders are travel-friendly and mess-free, saving you a headache and money!
So out came After Glow. What's more? In addition to the unbeatable quality, each powder is 6.35 ounces (enough for 80 spray tans) and can be purchased for $28.50—that's just 35 cents a tan! For just 35 cents you can add a luxurious treatment to your spray tan service to help protect and prolong your clients' tans. Both your clients and your reputation will thank you.
Become known for long-lasting luxurious spray tans for less than $30 by purchasing After Glow on bronzepalms.com.
Ask us anything!
Email: [email protected]
Text/Call: 408 874 8865